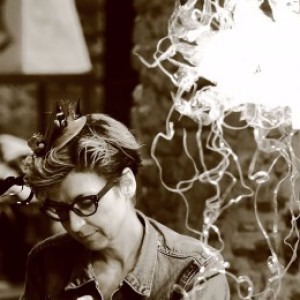 Agnese Del Gamba
Pezzi unici di estro e creatività.
---
Profile
Estro e creatività: da questo nascono le mie creazioni. Pezzi unici a volte opulenti a volte lineari, legati a storie, viaggi e persone conosciute. Le creazioni sono in plastica di recupero che trasformo rendendola luminosa come il vetro, leggera e mobile. L'attenzione all'ambiente si coniuga con esigenze stilistiche e artistiche per suscitare emozioni e gioiosa vitalità. Alla plastica lavorata si aggiunge tutta una serie di materiali che "tesaurizzo" andando per fiere e mercati, nei laboratori artigianali, nelle fabbriche del territorio. Non è un accumulo ma una ricerca minuta e attenta di quello che vedo e tocco. Che siano circuiti elettrici fallati, pellicole fotografiche, scarti di plexiglas o preziosi bottoni sartoriali, i filati di pregio o pezzi di legno di antiquariato, ogni elemento diventa prezioso ai miei occhi richiamando ricordi, sensazioni, immagini.Ogni pezzo viene organizzato nel laboratorio così da permettermi di usarlo al momento in cui affiorano idee e progetti.
---
Gallery
---
Video
Email sent! Confirmation will be sent to you soon
Registrazione completata con successo! Presto riceverai un e-mail con il link per confermare i tuoi dati, necessario per poter eseguire l'accesso su JVF.
Richiesta completata con successo! Presto riceverai un e-mail con il link per recuperare la tua password.
Recupero password completato con successo! Ora puoi accedere con la password che hai appena inserito.