Countdown to JA New York Fall!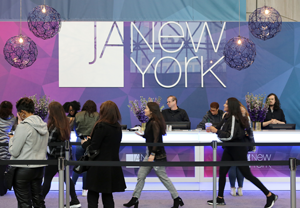 JA New York is the perfect setting for the Business of Jewelry. Smartly styled, cleanly edited, renovated, this polished show is a lively mix of the season's best buying opportunities - from diamonds to deco, to gold, to every gemstone available on the market.

For over 100 years, JA New York has brought the jewelry industry on the east coast, for three focused days of buying, trendspotting, treasure-hunting and business-building interaction.
Held three times per year, the show is home to over 600 of the world's finest jewelry brands, designers and suppliers representing the full spectrum of market categories. Exhibitors include high-end designers, major manufacturers, rising stars that encompass every taste, style and price point.
JA New York Fall, October 27 – 29, 2019 at the Jacob Javits Center.
JVF Editorial Team