FANTASY COLLECTION BY YVONE CHRISTA NY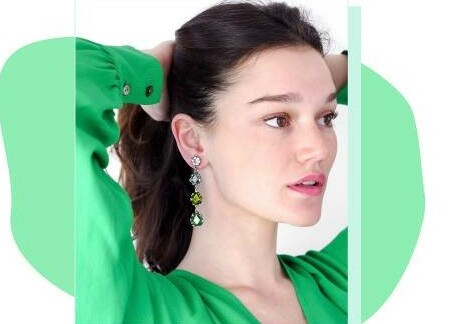 Between tradition and innovation, a contemporary jewel rich in artistic and symbolic values
Yvone Christa was founded in Los Angeles 1991 from the inspiration of two Swedish designers: Yvonne Clamf and Christina Söderström. From their first names, they created a brand that knew immediate success when a screenwriter, struck by their first collections, commissioned the jewelry for the stars of two major TV series: "Beverly Hills" and "Melrose Place".
Love for art and passion for fashion, design and architecture give life to a unique jewelry line that has conquered the States. Every piece of Yvone Christa jewelry is handmade with the ancient Venetian filigree technique: thin threads of silver, crafted into exotic patterns and treated with a particular procedure donating the jewels an antique finish.

Yvone Christa colourful jewelry has a distinctive feminine and retro taste which the designers achieve with the careful choice of pearls, semiprecious stones and circular zirconia.

Nature is a rich source of inspiration: the perfection of a rose, an orchid or a tulip. Petals, leaves and stems, but also insects, dew drops or a cloud. Whatever the sensitive eyes of the designers can grasp is carefully patterned with thin silver threads.

The creations of YVONE CHRISTA have conquered the hearts of great figures in prominent circles. Actresses, supermodels, politicians even royals wear Yvone Christa and the style of the brand has spread across the globe.

The two designers have also partaken in collaborations with important international art museums. One being with the Stockholm National Museum, who commissioned Yvone Christa the "The Butter Cup" collection on the occasion of an exhibition of the jewels of the Russian Tsars. Likewise, the National Gallery of Art of Washington D.C. entrusted the designers with making the "Forget Me Not" collection which took inspiration from a painting by Van Huysum. Yvone Christa jewels are sold in the boutique of various art museums.

The myth of a great artist stimulates the creativity of the designers who, in 2002, create a collection that has become a true icon of costume jewelry over time: it is the fascinating "Frida Kahlo" Collection. A blend of strong colours and feelings, emotions of the lifestyle of the Big Apple '40s that marked the beginning of the painter's artistic path. The big bohemian earrings, the cult of the collection, are an expression of the feminine character, a synthesis of a woman who can impose her own personality. Subtle shapes, the daisy in bloom, the inlaid crescent moon and the rain of vibrant stones and coloured pearls. In between tradition and innovation, a contemporary jewel rich in artistic and symbolic values signed Yvone Christa NY.