Subscribe JVF Pro® the business plan at only € 99!
Alo Photo Sphere
Obtain stunning pictures, 360º animations and videos of your jewels.
Alo Photo Sphere: our ultimate solution. Increase your photo quality now!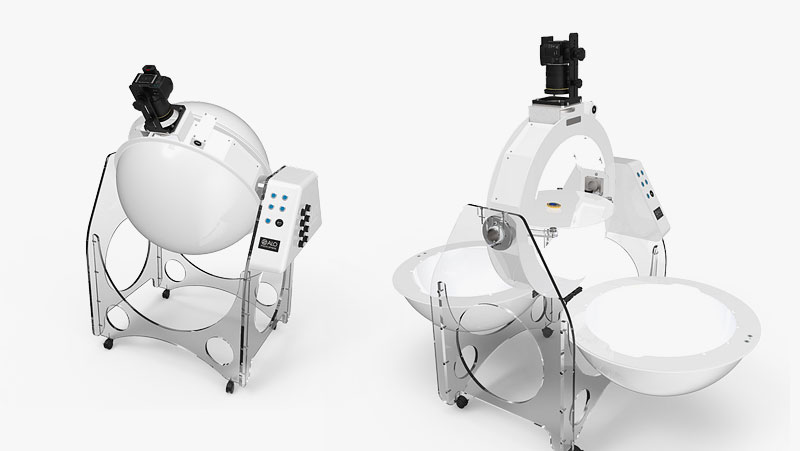 The ultimate solution is called ALO Photo Sphere.

A natural evolution of the previous studio, allows to increase photo quality of an additional 20%, this thanks to the 4 independent LED light sources which rotate with the sphere. Each light source can be dimmed both in intensity and color. Light color range is 3300-6500°K.

The sphere can be opened at both top and bottom, this feature allows to create best shooting environments for different kind of jewellery, starting from loose stones up to high end jewellery, both gold, silver, not precious metals.
The universal adapter allows any camera to be applied to the sphere with any lens.

Camera rotation is an essential feature to having an item standing up while it's laying down. Best results and ease of use are obtained by the use of the camera setup we recommend. The sphere can rotate on 3 axis separately, both inner turntable and sphere can rotate 360° thanks to the software remote control. The camera can also be manually rotated on its own axis.

The motorised axis allow to get outstanding smooth 3D animations in very short time. Output formats can be: HTML, Gif, any kind of video file. Interaction with social networks is very easy and fast.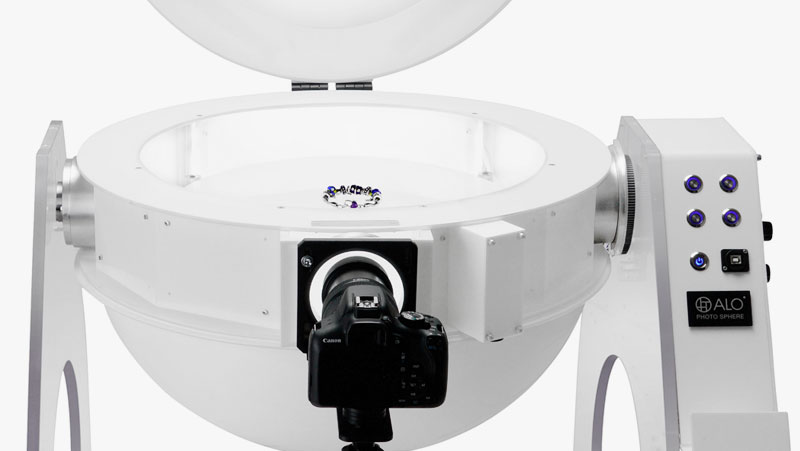 Create 360 views of your jewelry products
Capture your designs in their best light, and give your customers the satisfaction of seeing the entire product from all angles.

Our studios were designed with jewelry in mind, providing the best environment to get the right image.

From lighting to rotation, take advantage of the turntable and extend your users viewing capabilities.
ALO Photo Sphere is integrated with our software ALO Photo Scan
This software allows to remote-control some cameras from the computer, choosing settings and rotations, valuing the preview in real time and modifying the photo right after the shoot with the photo-editing functions, for example they allow to have a white or transparent background.

Also, the software is able to calculate the real dimension of the item.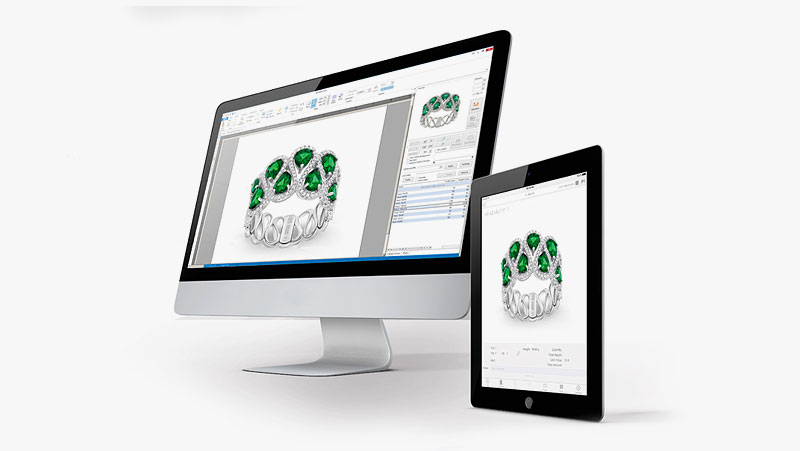 For info or requests about Alo Photo Sphere service
CONTACT US NOW
Request completed successfully! You will soon receive an e-mail with the link to confirm your information, which is necessary to log in to JVF.
Request completed successfully! Soon you will receive an e-mail with the link to recover your password
Password recovery completed successfully! You can now log in with the password you have just entered.