VicenzaOro inaugurated with the announcement of two new agreements INAUGURATED WITH THE ANNOUNCEMENT OF TWO NEW AGREEMENTS.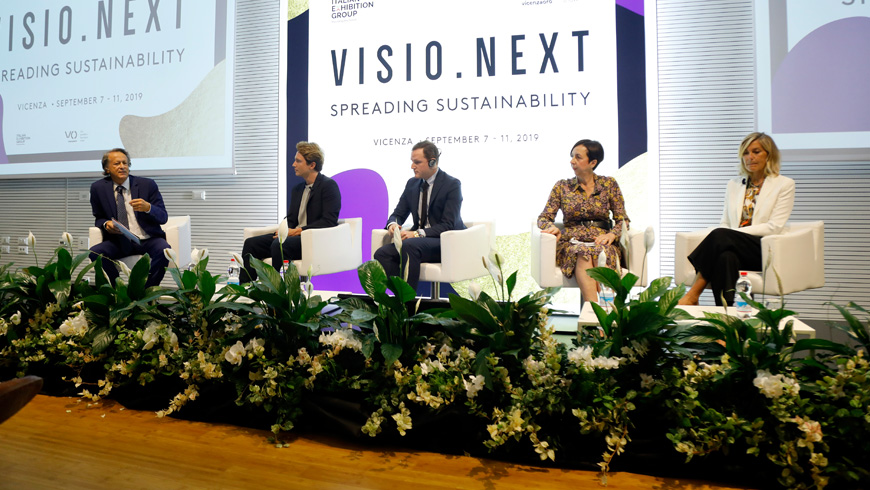 Sustainability and internationalization are the watchwords for the sector.
VicenzaOro September (7-11 September) - The International Jewellery Show, organized by the Italian Exhibition Group (IEG) began with the announcement of two important agreements for the development of the sector, with A.F.E.M.O. - Association of Manufacturers and Exporters Machinery for Goldsmiths and with Assocoral - Association of Corals, Cameos and Jewels from Torre del Greco.
The inaugural VISIO.NEXT round table faced one of the transversal themes envisaged in this edition, the "Spreading Sustainability". "The system of Jewellery and Fashion - according to Will Kahn of Town and Country Magazine - must focus on the service of sustainability, traceability of the supply chain, transparency, raw materials, and circular economy". Matteo Ward, CEO and CMO of Wrad, confirmed in his speech: "80% of consumers require transparency regarding the traceability of the supply chain but also the availability of materials. In 12 years there will be 8 billion people on the planet; those who will not invest in sustainability will have a reduction of 5-6% on EBITDA ". The MISE, the Italian Ministry of Economic Development will support, thanks to a new platform, the companies in the application of the EU regulation 2017/821 on the metal provision in high-risk areas, in effect on 1 January 2021. Cristina Squarcialupi, Vice President of UnoAerre Industries, underlined how UnoAerre started its commitment to sustainability more than 50 years ago, also through the recovery of precious metals from industrial waste.
Spreading the culture of sustainability and looking at the most effective practices to undertake an entrepreneurial path are increasingly decisive issues and values for consumers as well as a great opportunity for growth and development for the sector.
VicenzaOro confirms itself as the platform of the goldsmith-jewellery world where the most relevant themes for the evolution of the entire sector are discussed, studied in-depth and communicated. The dissemination of practices to ensure sustainability is one of the major priorities of the sector.

VicenzaOro is a strategic hub and reference platform for companies in the Italian gold manufacturing districts, whose sector represents - according to the Confindustria Moda Study Center, in collaboration with Federorafi - 84.5% of the total exports in the Italian manufacturing sector in the first quarter of 2019.
Local and national authorities, introduced by IEG trade fair director Patrizia Cecchi, attended the ribbon cutting of this September edition, which marks a particularly important moment for orders for next Christmas. IEG President Lorenzo Cagnoni highlighted how this edition of VICENZAORO has achieved and exceeded the objectives of the fair eve, confirming that the Vicenza appointment is increasingly the point of reference for the entire supply chain.