Subscribe JVF Pro® the business plan at only € 99!
Violi Meccanica Industriale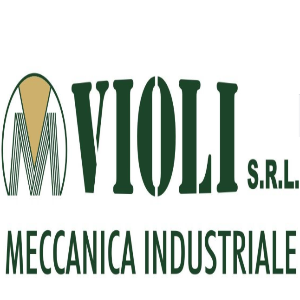 Violi Meccanica Industriale
Macchinari utilizzati nel comparto orafo, industriale e del recupero.
La Violi Srl nasce nel 1992 grazie alla tenacia del Sig. Giorgio Violi, impegnato da sempre nella progettazione e nella realizzazione di macchinari industriali tipicamente impiegate nel comparto orafo.

La sensibilità nel saper anticipare le esigenze di mercato e la capacità di adattare la produzione alle richieste della clientela hanno fatto di Violi srl un partner di riferimento serio ed affidabile a livello nazionale ed internazionale.

Ricerca ed innovazione hanno da sempre caratterizzato la cultura aziendale e rappresentato le linee guida per la progettazione di macchinari tecnologicamente avanzati e ricchi di soluzioni innovative. Internamente l'azienda dispone di comparti all'avanguardia che permettono di offrire una gamma di apparecchiature standard o customizzate, capaci di soddisfare al meglio alle esigenze del cliente, valorizzando la professionalità di ogni ciclo.
Gallery
Violi Meccanica Industriale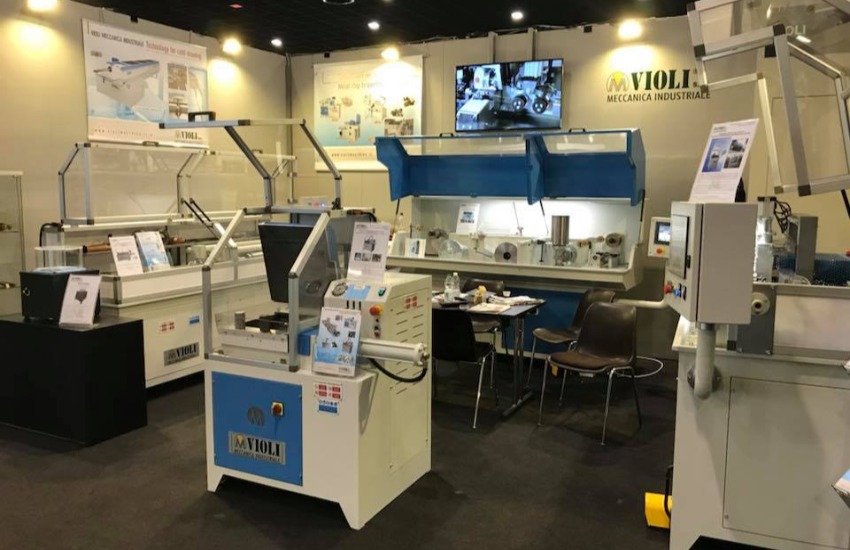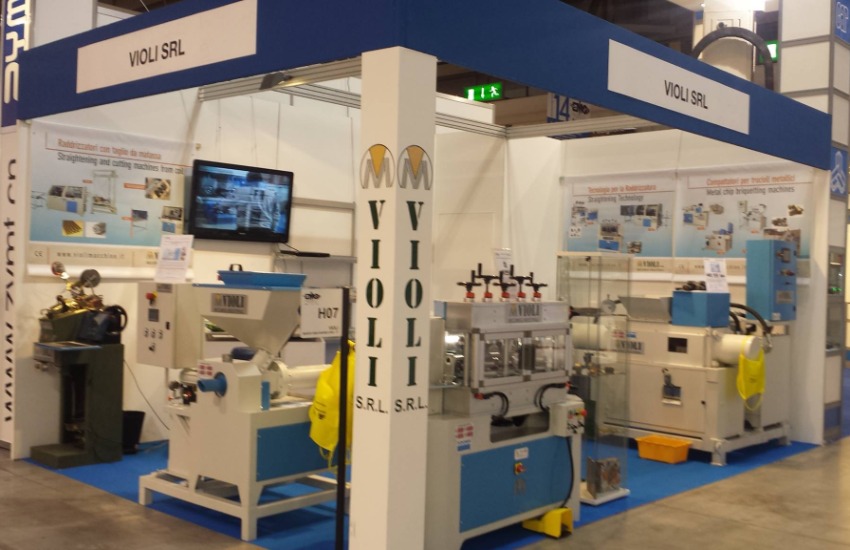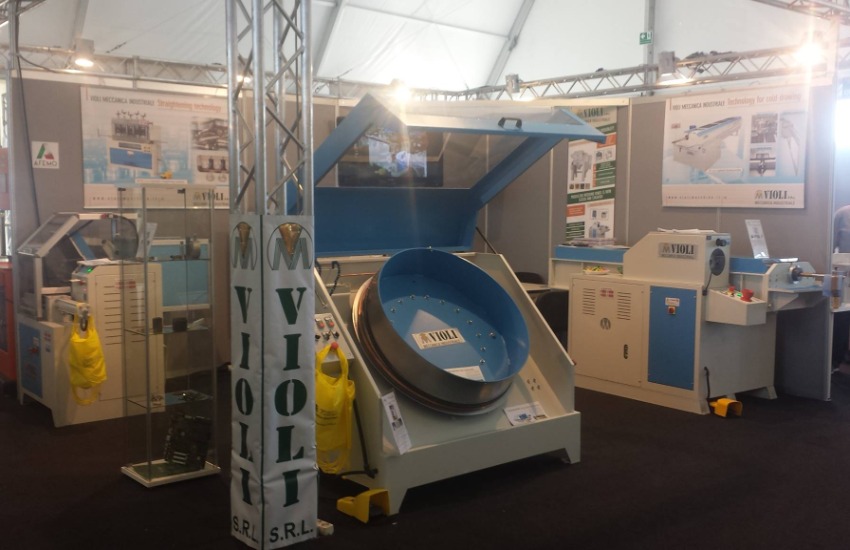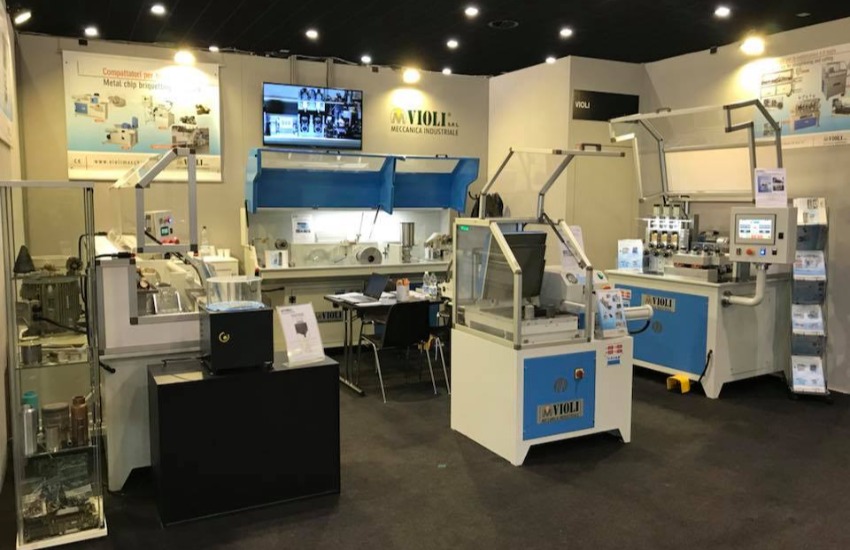 Post
Violi Meccanica Industriale
See all
#Violitech is the column dedicated to Violi technologies and this is the week of our polishing machines. The silent and powerful suction, conveys waste through a self-cleaning cartridge filter; the material is collected inside a special tray so that it's easy to be recovered. An additional filter to avoid any further dispersion of metal is installed at the output of the suction chamber. These machineries are strong and solid, equipped with neon lights and provided with a protective glass to ensure maximum operator safety. The anchoring system of the brushes is simple and effective and allows rapid replacement. The control panel is easily accessible from the workplace. 👇 INFOLINE 👇 marketing@violimacchine.it #violisrl #jewellery #jewelry #jewels #manufacturing #technologies #polishing #buffing #grindingmachine 🇮🇹 Violitech è la rubrica dedicata alle tecnologie Violi e questa è la settimana delle nostre pulitrici. L'aspirazione, silenziosa e potente, convoglia i residui di metallo e pulimento attraverso filtri autopulenti a cartuccia in poliestere azionati in modo temporizzato; il materiale trattenuto viene raccolto all'interno di appositi cassetti ed è facilmente recuperabile. All'uscita del vano aspirazione è installato un ulteriore filtro assoluto per eliminare qualsiasi dispersione di metallo. Hanno una struttura solida e robusta, corredate di protezioni in vetro per garantire la massima sicurezza dell'operatore. Il sistema di ancoraggio delle spazzole è semplice ed efficace e ne consente la rapida sostituzione. L'azionamento avviene tramite un pannello comandi facilmente accessibile da entrambi i posti di lavoro.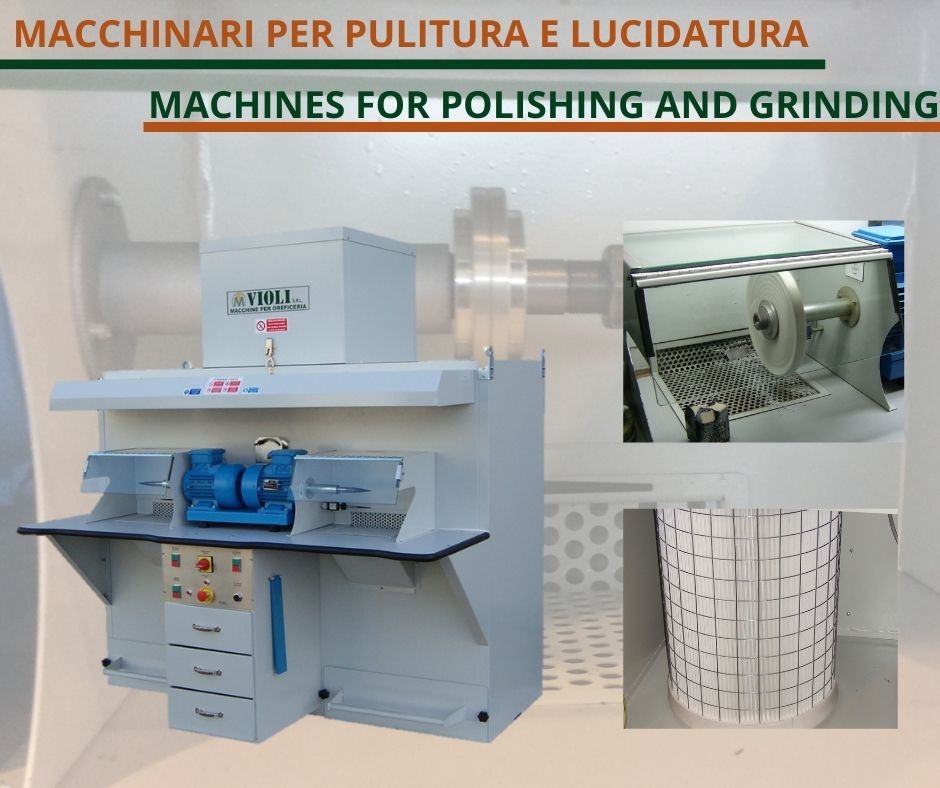 As the COVID-19 situation continues to evolve and the outlook for physical international trade shows remains uncertain, Jewellery & Gem WORLD Hong Kong 2020, the world's biggest B2B jewellery marketplace, is pivoting to an online format this year through J&G Digital World. This digital event is optimised to spark genuine conversations, facilitate efficient digital product meetings, and ultimately, build business relationships, regardless of time zones and distance. Scheduled for 27 – 29 October, J&G Digital World will be live 24 hours a day during the event period with exhibitors' individual team members having the flexibility of setting the time when they will be available to serve buyers. SAVE THE DATE AND VISIT US!! https://lnkd.in/daMhKBW #violisrl #jewels #JG #digitalworld #hongkong #digitalexhibition #digitalization #online #booth #onlineshop #machines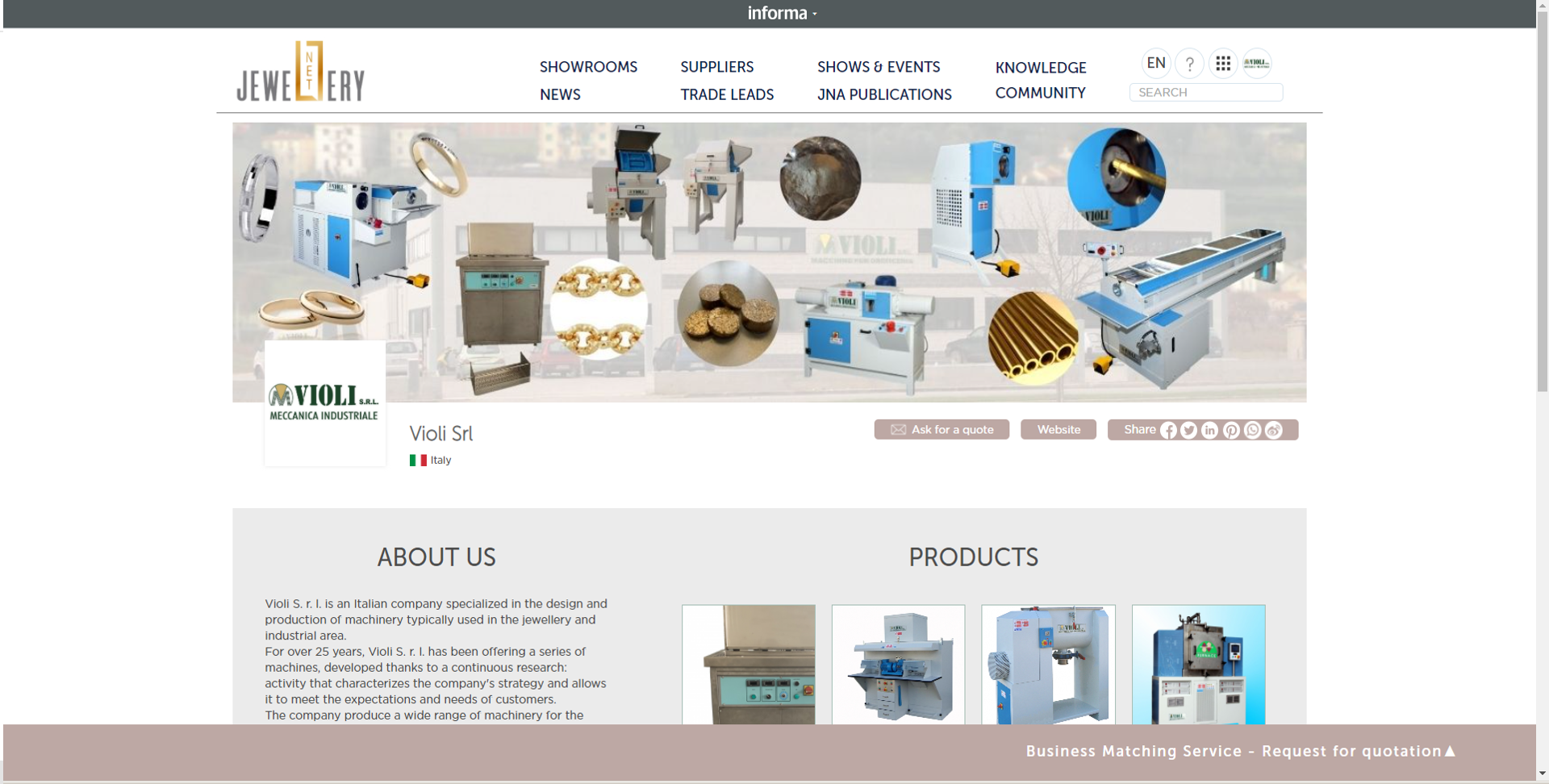 #Didyouknowthat the creation and production of a jewel require studies and cutting-edge technologies? Immediately after smoothing, a jewel presents uniformity of color and shape. At this moment it is ready for the polishing operation, which consists of a first rough grinding. In order to carry out this operation the goldsmith craftsman mounts one horse hairbrush on the polishing machine on which he spreads a yellow paste. The jewel is then ready to be grinded. The craftsman changes brush to the polishing machine, mounting a more delicate and less aggressive felt brush. Violi S.r.l. has been present in the jewellery area for 25 years, manufacturing polishing machines and several technologies for these processes. More information? Come and find out! 👇 INFOLINE 👇 marketing@violimacchine.it #violisrl #jewellery #jewelry #jewels #manufacturing #technologies #polishing #buffing #grindingmachine 🇮🇹 #Sapevateche la creazione e produzione di un gioiello richiedono studi e tecnologie all'avanguardia? Subito dopo la levigatura, il gioiello presenta uniformità di colore e forma, e sarà pronto quindi per la pulitura, che consiste in una prima grossolana lucidatura. Per svolgere questa operazione l'artigiano orafo monta sulla pulitrice una spazzola in crine su cui spalma una pasta di colore giallo. Il gioiello poi è pronto per essere lucidato. Per la lucidatura l'artigiano cambia spazzola alla pulitrice, montando una spazzola più delicata e meno aggressiva in feltro. Violi S.r.l. è ormai presente da 25 anni nel settore orafo, fornendo macchine pulitrici e molteplici tecnologie per queste lavorazioni. Volete saperne di più? Venite a scoprirlo!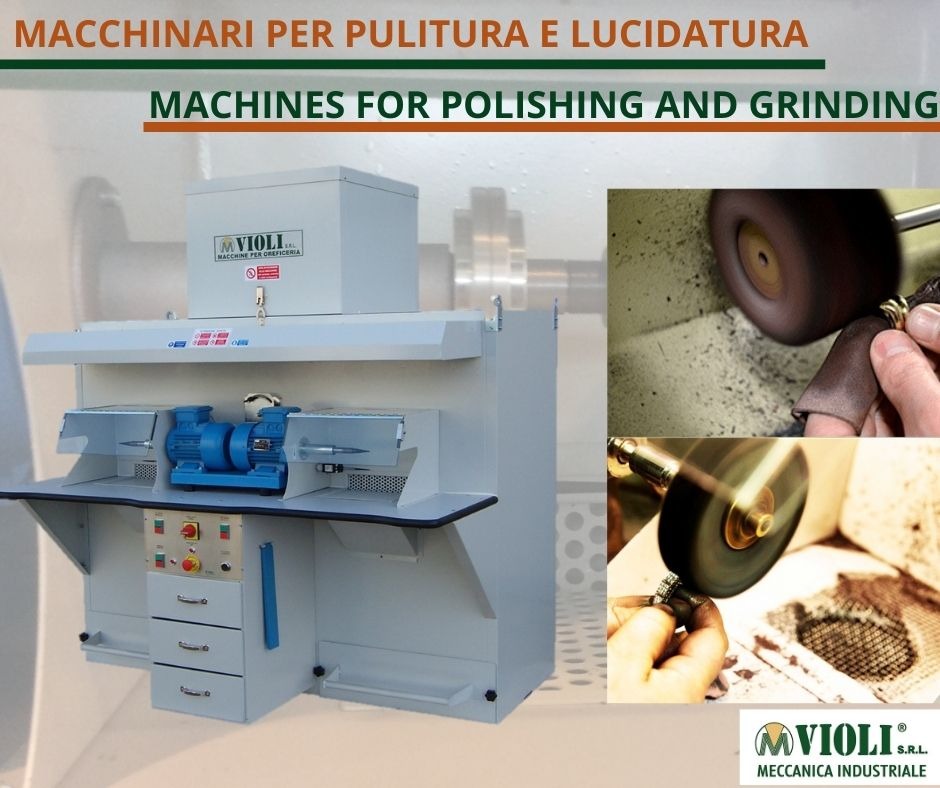 Video
Contacts
Violi Meccanica Industriale
Violi Meccanica Industriale
Via XXV Aprile, 86
52100&nbspMonte San Savino, Arezzo, Italia
+390575 810487
Google Maps
Email sent! Confirmation will be sent to you soon
Request completed successfully! You will soon receive an e-mail with the link to confirm your information, which is necessary to log in to JVF.
Request completed successfully! Soon you will receive an e-mail with the link to recover your password
Password recovery completed successfully! You can now log in with the password you have just entered.